Welcome to the
Central New York chapter of Wild Ones
Habitat gardening is gardening to provide habitat for wildlife ... but also to create a more interesting, healthier environment for people, too!
In Habitat Gardening in Central New York, we learn from Central New York experts and from each other about:
how to provide habitat for birds, butterflies, and other creatures
good (and poor) plant selections for Central New York
and MORE!
Meet other like-minded habitat gardeners … AND help restore habitat and native plants in Central New York.
Doug Tallamy seminar in Syracuse April 25
Here's the registration brochure. When you click ths link, it will download to your Downloads folder with the name "Tallamy-brochure.pdf." To register, please print it out and mail it to the address indicated in the brochure.
Join us for our meetings and tours, learn more from our resources and newsletters (sign up below or check our archive), and take a web visit to Stewardship Garden, a local habitat garden, for much more information and photos. Our free native plant shopping guide in Central New York is available below.
Get a meeting reminder and habitat tips
For information about our upcoming meetings, tours, and events as well as habitat tips, sign up for our FREE twice-monthly e-newsletter (see below).
Join Our FREE Newsletter List
The HGCNY Native Plant Shopping Guide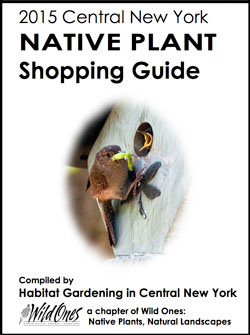 Our FREE Native Plant Shopping Guide lists the native plants sold by several Central New York nurseries. New this year: Plants that are bumble bee friendly!
What is the most common question we get from people? "Where can I find native plants?" Now you'll know!
Click on the photo at left or HERE to download the entire Guide.
Or you can download any or all of the parts separately for printing. Here are the THREE PARTS of this guide:
Trouble downloading? Be sure you have the free Adobe Reader. If your computer downloads the file (called "guide.pdf"), but you don't know where it is, look in your browser settings to find your Downloads folder. Still having trouble? Contact us and we'll email you the .pdf file.
We're pleased to see the increasing variety of native plants being offered for sale—many more than we had even suspected.
Please CALL AHEAD before you set out on your shopping trip! Confirm the hours the nurseries are open and confirm that your selected plants are currently in stock. What is available in May, for example, may not be available in July. Call ahead to avoid disappointments and wasted gas!
Highly recommended books
Bringing Nature Home by Douglas Tallamy is highly recommended! You'll have renewed appreciation for the role of native plants in our gardens - and for reasons that may surprise you. Now also available in an expanded second edition.
Designing Gardens with Flora of the American East by Carolyn Summers is a good complement to Tallamy's book. She shows how you can use native plants to create beautiful landscapes that create habitat for wildlife.